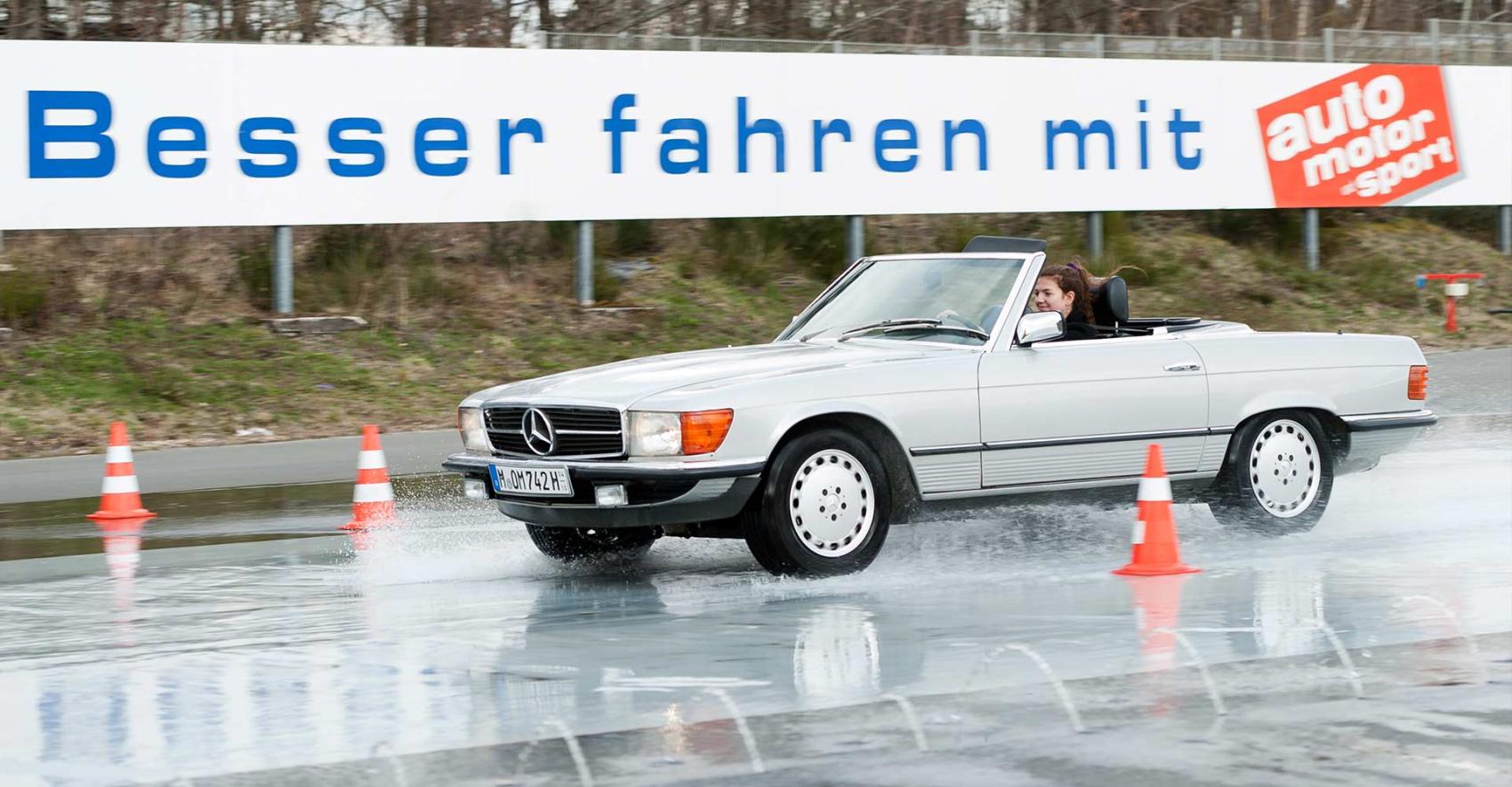 The measure of all cars: auto motor und sport. Wonder, immerse, discover, relax, dream, inform: For over 70 years, auto motor und sport has been a synonym for automobile passion, spirit of discovery as well as independent and unique automotive journalism.
Comprehensive insurance versus all-risk coverage: everything insured or what?
"My classic car is covered by a full insurance, so why do I need more?"  
It's so evident: usually a classic car is not an everyday vehicle that should simply be added to a regular motor vehicle insurance. It is a vehicle used for special occasions, with a far higher emotional and/or monetary value and bearing quite different risks than a conventional vehicle. Which among the regular vehicle insurances includes topics such as value enhancement, transport, handling the H-plate or the coverage of spare parts in its insurance cover?
You will probably become aware of the difference between a regular comprehensive insurance and an insurance that is specially designed for classic cars already upon your first conversation with your agent. Is he himself a passionate collector or mechanic? Is he passionate about spare parts markets and classic car fairs and can he talk to you about classic cars at eye level and advise you accordingly? It is at the latest in the event of a damage that the difference of a regular comprehensive insurance policy will become apparent. In the event of an own-damage claim with a conventional car, the respective automobile insurer will try to settle the claim as low as possible. If this same case occurred for a classic car, the cheap spare part or the new paintwork would certainly not be original - thus representing an exclusion criterion for true aficionados. 
There are, of course, several insurers who offer a special classic car insurance. At Mannheimer Versicherung, it is called BELMOT and is divided into basic and all-risk cover.  Other insurers also offer all-risk cover, which can, however, differ in significant respects. 
BELMOT – All-risk cover for non-stationary classic cars
In many respects, BELMOT is somewhat different to other classic car insurers. Differences become already apparent when comparing their respective origin: BELMOT did not arise as an extended vehicle insurance but is based on a transport insurance. Mannheimer was founded in 1879 as a pure transport insurer. It bundled the knowledge from over 100 years of transport experience and transferred it to the BELMOT coverage concept before developing the BELMOT brand in 1994. 
You will as well make up differences in the range of products. At BELMOT you can choose from two insurance variants:
The "basic cover" - for stationary collections and vehicles that are not driven, but at most transported by a means of transport, and 
The all-risk cover for vehicles that are moved but not used as an everyday vehicle. 
You are familiar with the terms partially comprehensive or comprehensive cover from other insurers. BELMOT does not use these terms since their basic cover already offers more protection than a conventional partially comprehensive cover and the all-risk cover goes beyond a regular comprehensive insurance. Both variants additionally require the legally prescribed liability insurance.
So, what is all-risk cover?
All-risk cover is BELMONT's premium variant and protects from almost all risks - even from damage that is not caused by an accident. Excluded damage, such as rust or wear and tear, is explicitly identified and clearly listed in the insurance conditions. Except for these few exclusions, the all-risk cover insures any damage, including some engine and transmission damage.
Under what conditions are engine and transmission damages insured? When is this not the case? Three examples from practice
Faulty design - insured!
While driving on the motorway, the con-rod of a Jaguar XJ 12 engine breaks. It turns out to be a casting defect that was not detected during production (or during an engine overhaul). The damage occurred abruptly and suddenly, it is insured because it "could not have been foreseen".
Wear and tear - not insured!
While driving, the driver of a BMW 502 V8 notices strange noises and a power loss in his engine. Upon disassembly, it turns out that the wear had progressed so far that one of the pistons could tip and jam under load. Due to the heavy wear, this damage was "pre-programmed", so to speak. It could have been prevented by a timely overhauling of the engine (e.g. cylinder bore, hollowing and use of oversize pistons). Such damage is not insured, since it is only a matter of time before it occurs. 
Faulty operation - insured!
A gearbox damage is found to have been caused by the breakage of a gearwheel, e.g. due to incorrect operation. The damage is insured, and the policyholder receives a new gear. In such case, a deduction "new for old" can be made. This means that the policyholder pays a percentage of the damage himself, as his vehicle is now in a better condition than at the beginning of the insurance contract. This ensures that all policyholders are "treated equally".
Want more information and news from the scene? Visit the blog at www.belmot.de  And if you're full of questions, don't despair and ask our listed BELMOT experts for advice, they share your passion wholeheartedly. They will explain all the details of BELMOT to you in a joint meeting.