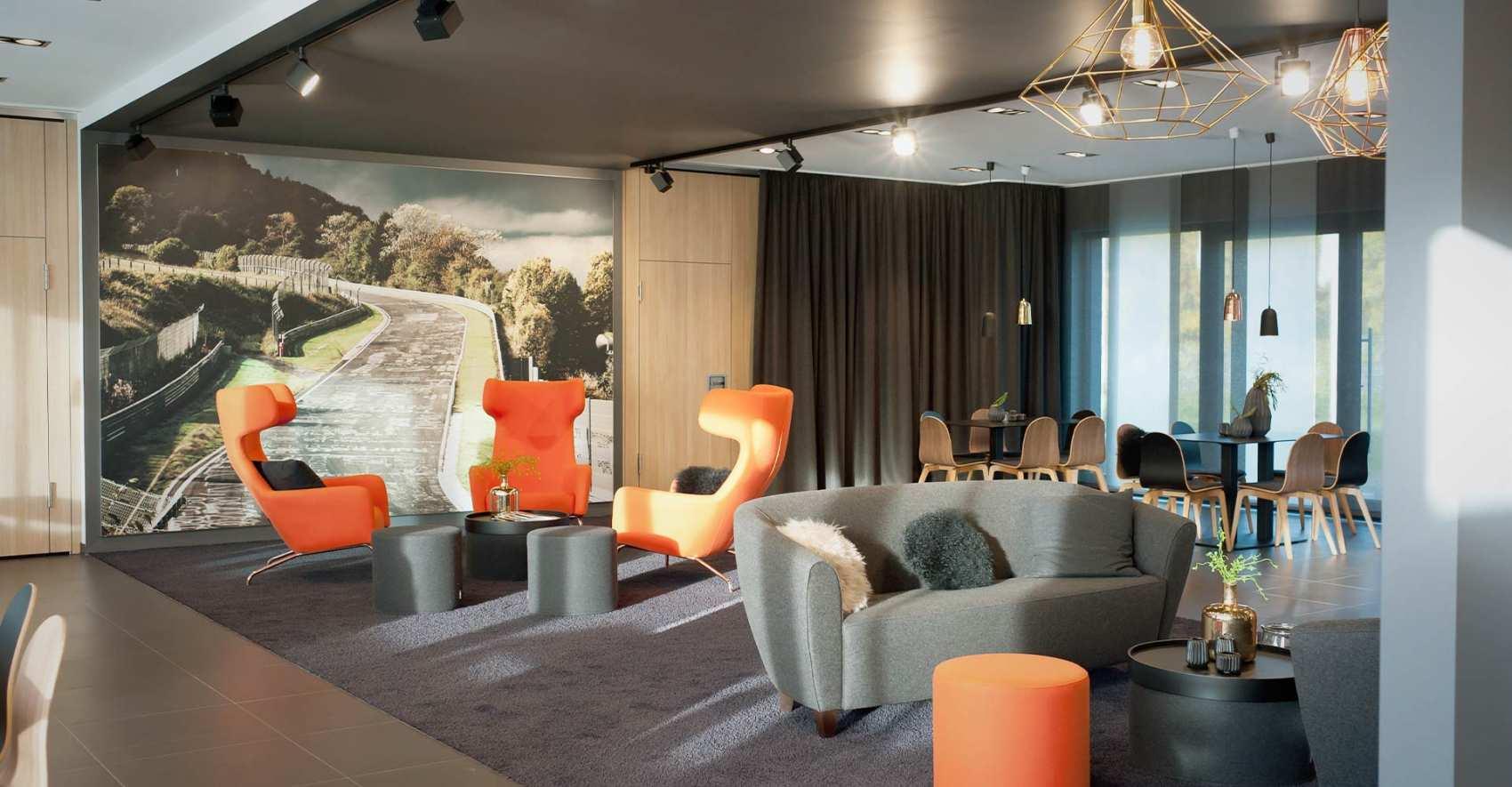 Frequently asked questions and answers
related to the driver safety training
at the Nürburgring
The driving safety center at the Nürburgring works closely together with the ADAC.
An intensive cooperation exists with the ADAC Mittelrhein. We comply with the quality standards of ADAC trainings. Members of the ADAC Mittelrhein are granted a discount on our trainings.
No. In the case of group bookings, we offer our customers tailored events all about driving, including catering, accommodation as well as activities on and around the race track. All from one source.
A driver safety training may but does not necessarily have to be part of such an event. If you want to come around to the Nürburgring, we are the right place for you, whatever your plans.
Yes. We specialise in developing, implementing and supervising events, and this for groups as well. From a small group with three participants to a vehicle presentation with 13,000 participants.
Yes. You can also participate as an individual driver. In this case you will be brought together in a training group with a maximum of nine further participants and supervised by an instructor.
We offer various trainings. The most popular training format is the "Safety & Fun 1 Day" for car and motorbike drivers. This training takes approx. 8 hours (usually from 9:00 am to 5:15 pm)
But we do also offer shorter and longer trainings that can be tailored to your individual needs.
For most trainings, the day starts with a briefing consisting of an introduction to the principles of driving physics. Then it's on for practice on the grounds of the driving safety centre and its tracks.
Before and after each exercise, we discuss the respective training goal and what has been experienced so far. During the one-day and multi-day trainings there is a break for lunch. After the practical session we will have a review of the day. This is when diplomas are issued.
The trainings take place all year round, also on weekends. We have about 20,000 guests per year. This guarantees a high level of professionalism, considerable experience and a broad selection of available dates.
No. Each participant must be in possession of a valid driving license and be able to provide evidence on the day of the training (so please bring your driving license with you). Before booking the training, please make sure to enquire for the validity of a foreign driving license and the conditions of the driving license "accompanied driving at 17".
Yes. You can rent a car from us. The rental of a Skoda car is particularly economical. However, we also provide such service for other cars via our partner Buchbinder.
The most sensible thing to do is to participate with your own vehicle, since this is the vehicle you are on the road with, you should thus perfect the handling of this specific vehicle. Even so you also have the possibility to rent a vehicle from us.
During the training, the insurance coverage of your car insurance usually applies. In this regard, however, we would ask you to consult your insurance provider. Individual insurance providers may exclude trainings of any kind. In addition, you have the possibility to take out a fully comprehensive insurance with us. Please find the current insurance conditions in our valid Terms and Conditions.
A maximum of 10 people can participate in a group. Up to eight groups can attend trainings on our premises in parallel.
Yes. Please note that the course fee is payable per person, not per vehicle. We recommend that a maximum of two people share one vehicle.
The driver safety training courses take place on the two sites of the Driving Safety Centre (FSZ 1 and FSZ 2) with a total area of 130,000 square metres. They are located in the immediate vicinity of the Nürburgring race tracks. These areas dispose of their own tracks where the training sessions take place.
Yes. In principle, trainings take place in any weather. However, in some extremely rare cases, when the weather conditions on our premises do not allow training, it will not be held. If the training cannot take place due to weather conditions, we will contact you.
No. Unfortunately, driver safety trainings do not shorten the license probationary period. The programme intended to shorten this period is organised by driving schools.
The participant gains safety and improves his confidence and risk awareness in road traffic. Increased awareness of risks in road traffic helps participants to identify and assess dangerous situations faster. Moreover, the participant improves his knowledge and control of the vehicle in extreme situations.
Please check tyre pressure as well as oil and water levels before the training. Remove loose items from the interior of the vehicle and/or the boot or attach them. Important: The tank of your vehicle should be at least half full.
No need to worry about your vehicle. If you follow the trainer's instructions, nothing should happen to you or your vehicle. Even the wear on tires, brakes and clutch is hardly measurable. The wear and tear during our two-day car training "Safety & Fun 2 Days" is no greater than after 80 km ride on country roads
The STVO (German Road Traffic Regulation) applies on the premises of the Driving Safety Centre, it stipulates the situative use of winter tyres. Irrespective of this, in winter you should always complete training on winter tyres. Also keep in mind that the journey to the Eifel can be dangerous and difficult without appropriate equipment.
Yes. Especially for a vehicle with no electronic assistants, training is crucial.
Yes. Safety systems such as the Electronic Stability Program are extremely helpful in coping with critical situations, they do, however, not provide 100% safety. That is why training is also important for vehicles that dispose of all the latest safety systems.
In our bistro-restaurant you will be provided with drinks as well as cold and warm meals. Lunch will be ordered and paid for on site and this of course for your accompanying persons as well. Please understand that it is not permitted to bring your own food.
You will receive directions on how to find us with your booking confirmation. The route planner on our website www.FSZN.de will direct you straight away to our premises.
Yes. There are numerous hotels and guest houses at the Nürburgring.
Unfortunately, there is no general answer to this question. The general rule is: The earlier you book, the better. But even at short notice there are still free dates (partly with last-minute fees). Please check your desired date on our website under 'online booking' or just give us a call.
Yes. Please feel free to contact us. We will be happy to plan your individual event for you.
Yes, this is possible in the form of a voucher. Orders can be placed either by phone, where payment is conveniently made by invoice, or via the Internet, where you can easily pay by credit card. The voucher can be used at any time, so that the donee is free to determine his or her preferred date. Valuable information on our vouchers can be found in our current AGB.
The booking of a date is binding. This means: If the booked date is cancelled, we reserve the right to charge cancellation fees. We also charge a small fee for rebooking to another date. If you do not show up, your place will remain empty and the course fee will be forfeited. Please find the specific conditions in our current Terms and Conditions.
Many employers' liability insurance associations contribute to the training costs (on request). Please make sure to submit your request to the association prior to the start of the training.
Trainings we provide on weekdays are cheaper than on weekends. In addition, special subsidies are granted for specific training courses (subsidy by employers' liability insurance associations, subsidy for young drivers, etc). Please get yourself informed about this possibility on our website or contact the responsible employees of our partners. We would be happy to advise you personally on this.
In many cases, yes. For specific details, please get yourself informed with your car insurance provider.
The auto motor und sport Driving Safety Centre at the Nürburgring is among the largest driving safety centres in Europe and has the greatest experience in conducting driver trainings and holding events all around driving throughout Germany.
What makes it unique is the location of the auto motor und sport Driving Safety Centre in the immediate vicinity of the legendary race track.
Yes. In principle, it is possible to redeem an ADAC voucher at our centre. We offset its value in full. Please contact us by phone to find out more on how to use an ADAC voucher for a training at the auto motor und sport Driving Safety Centre at the Nürburgring.
You can register for trainings by phone or via our website. If you have a voucher, please have your voucher number ready.
Yes. You are welcome to bring spectators or co-drivers along. It's free of charge. Spectators are not allowed on the tracks, but can follow the action from the terrace or from the winter garden of our bistro. Here you also have the possibility to eat something or have a drink.
In addition, your companions can visit the attractions of the Nürburgring.
One accompanying person is entitled to participate as a co-driver in a car training (prerequisites: at least 8 years of age and appropriately secured in the vehicle; in addition a suitable seat heightening shall be required). Co-drivers from the age of 8 to 18 must submit a declaration of consent from parents or guardians unless the driver is the parent or guardian himself. However, we do not recommend taking children as passengers during the exercises because of the load exercised.
Here you can find the Declaration of Consent.