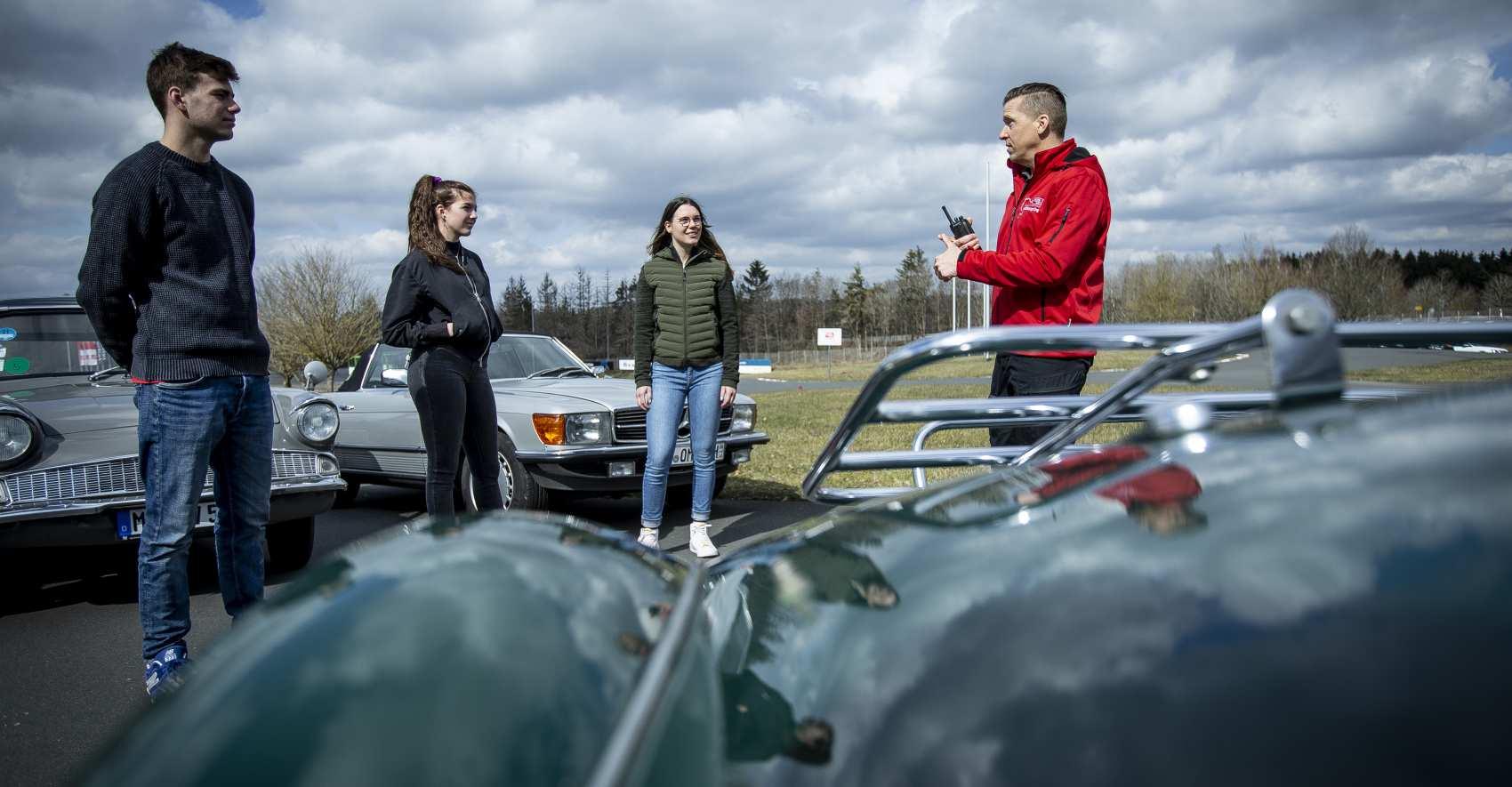 MotorKlassik Classic car & Modern classic car training
Special driver safety training for old and young vehicles with water obstacles & skid plate

from 329,- € per person
approx. 9 hrs
Suitable for all youngtimers and classic cars
Purpose

For participants with much or little experience / for all classic and modern classic cars

Dates

30.07.2023
26.08.2023
16.09.2023

Partner

MotorKlassik

Duration

approx. 9 hrs

Maximum group size

10 cars or 10 participants

Theory

Yes

Previous knowledge required

No

Price per person (incl. VAT)

Participant 329,- € / Co-driver 49,- €

Food & Drink

Lunch buffet incl. one soft drink and a coffee / dinner at the "Pistenklause"

Options

Passenger package with catering
Special driver safety training for any kind of modern classic car
Modern classic cars include all vehicles that are at an advanced age but have not yet reached the "classic car limit" of 30 years. As a rule, modern classic cars are between 20 and 30 years old. What does this mean? The electronic stability program, ESP, premiered in 1995 and has been compulsory for new vehicles since 2014 only. The anti-lock braking system (ABS) has become a standard since 2004. In short: Many modern classic cars are not yet equipped with the major assistance systems, which requires special knowledge and the full skill of the driver, especially in dangerous situations.
For this reason, the Nürburgring Driving Safety Centre, in short FSZN, offers a suitable driver safety training for all drivers of modern classic cars. In this process, you will learn relevant content that will give you more confidence and, most importantly, security. The Nürburgring Driving Safety Centre is the perfect partner to impart this knowledge. On an area of around 130,000 square metres, you will find all you need for a modern classic car driver safety training - from various open-air and training areas up to the skid plate. No worries: your beloved modern classic car won't be damaged. This is what our driving trainers take care to ensure. Because we do not leave safety to chance.
Who is the modern classic car driver safety training suitable for?
Our driver safety training is aimed at all owners and drivers of historic vehicles that are older than 15 years but younger than 30 years. Usually, such modern classic cars are not equipped with modern assistance systems such as ESP or ABS. It is therefore advisable to prepare yourself for possible extreme situations. Only if you dispose of sufficient experience and the necessary knowledge will you react correctly to prevent accidents in a case of emergency. And it doesn't matter whether you drive an Opel Calibra or a BMW Z3 Our driving trainers will give you individual tips and advice on what to consider for your personal modern classic car.
The contents of the modern classic car trainings
The contents of the modern classic car trainings have been elaborated in close cooperation with driving trainers and automobile experts. It does not matter whether participants do already have previous knowledge or not. Because our employees take the necessary time for each driver to achieve the best possible learning effect. Each driver training starts with a theory briefing. This briefing not only imparts the basic rules for modern classic cars, but also provides general advice on the correct sitting position, look direction and a safe holding of the steering wheel. In the course of the day, and during various sessions on braking techniques, avoidance manoeuvres and cornering, participants get to know the vehicle's behaviour. With the support of our driving trainers, you will also learn how to take control of a skidding vehicle (without ESP). Programme modifications are reserved.
Maximum safety in a modern classic car
Safety in road traffic is the top priority at the Nürburgring Driving Safety Centre We are happy to help you get to know the pitfalls and peculiarities of modern classic cars, knowledge which will also be useful to you in everyday life. The driving safety training for modern classic cars is conducted with a maximum of ten participants and lasts about nine hours. This ensures that we can address all questions and go into detail as to the different modern classic cars. Previous experience is not required, additional co-drivers can participate for an additional charge. A snack is included in this charge.
We will be happy to provide answers to any further questions, uncertainties, or special requests you may have.  The team of the Driving Safety Centre at the Nürburgring is available at any time via phone or e-mail and will get back to you as soon as possible. We look forward to having you and your modern classic car with us soon.